Understanding the mechanisms of liquid leakage & microbial penetration to build integrity control strategy in Single-Use
This article describes a scientific approach for establishing a relationship between the mechanisms of liquid leakage and microbial penetration. This work serves as the basis for the development of appropriate methods and specifications for the implementation of reliable physical tests to control the integrity of Single-Use Systems.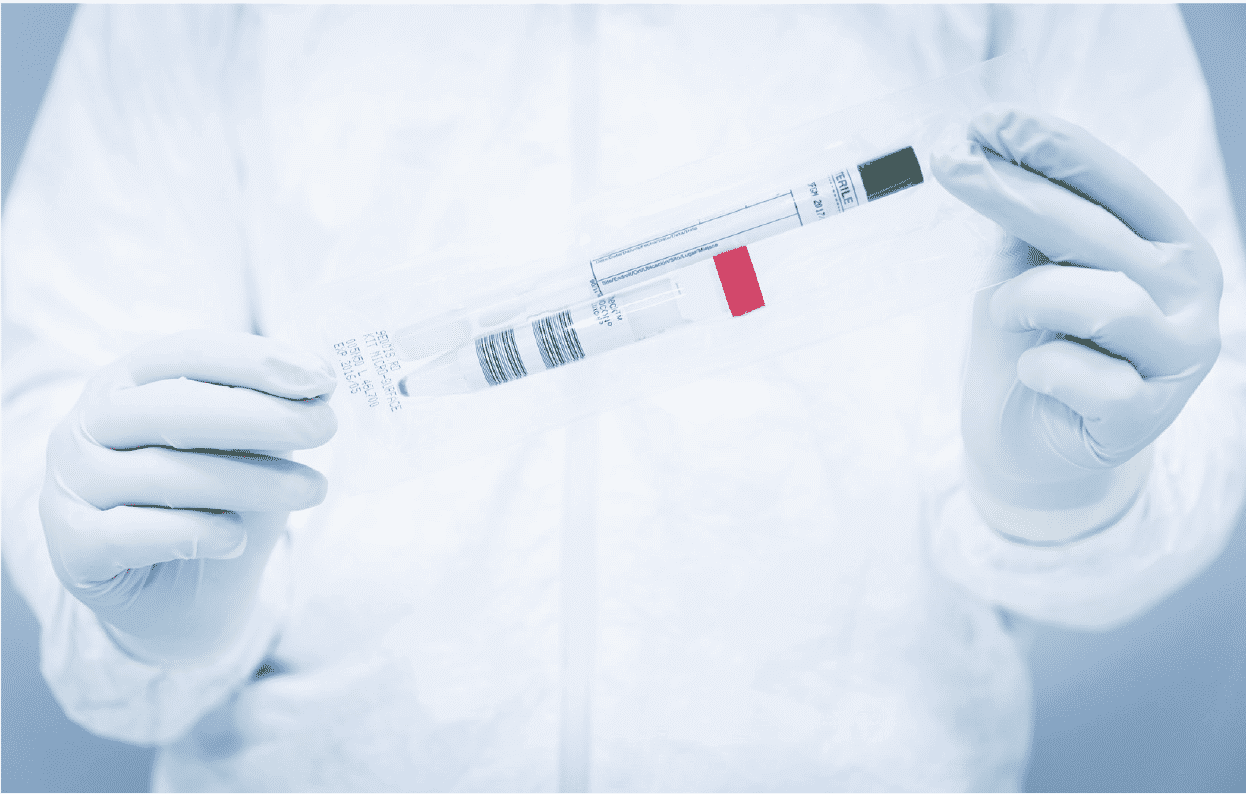 With the increasing adoption of Single-Use systems in the most critical stages of biopharmaceutical processes, any lack of integrity can significantly affect the safety of the drug product and its availability (thus the safety of the patient), but also costs (loss of product, disrupted production cycle). Regulatory agencies and industry are therefore becoming increasingly vigilant in enhancing the assurance of integrity of Single-Use Systems. As for the critical issue of extractables and leachables, the assurance of integrity must be based on a risk analysis, on the control of the manufacturing processes and the implementation of adequate controls, at the supplier but also at the point of use.
1.Introduction
For 20 years, Single-Use technologies have become widespread in the biopharmaceutical industry, initially for buffer or media storage applications. Because of their recognized advantages and many technological advances (bioreactors, mixers, probes, needles, etc.), they are now more and more considered for critical steps such as the formulation, storage, transport of bulk drug product. Assurance of integrity has logically become a major concern. Current regulations, however, focus on primary packaging (vials, syringes) or secondary packaging (capsules, caps), without taking into account single-use assemblies used in bio-production. It should be noted that initiatives are currently underway (revision of PDA TR 27(1), documents ASTM(2,3), BPSA(4)) to propose good practices concerning the integrity of single-use systems.
In the absence of a regulatory framework or guideline specifically applicable to Single-Use Systems used in bio-production, a risk management approach(5) remains recommended. In addition, scientific understanding of the critical size of the defect with a risk of liquid leakage and / or microbial penetration is a prerequisite for any integrity control strategy. It is then necessary to carry out in-depth studies in order to correlate the test methods (and their detection limit) with the Maximum Allowable Leakage Limit (MALL) that poses no risks for the product safety.
2. Definition and regulatory framework
The concept of Container Closure Integrity covers the ability of a closed container to maintain the sterility and quality of the drug product contained throughout its life cycle. This concept covers both physical integrity (no leakage of the contents) and microbial (no microbial penetration). It is well known for primary packaging but has so far been little discussed regarding single-use assemblies used in bio-production.
Below are some reference documents:
EU Annex 1 – Manufacture of Sterile Medicinal Products(6)
21CFR 211.94 – Drug Product Containers & Closures(7)
FDA Guidance for Industry(8)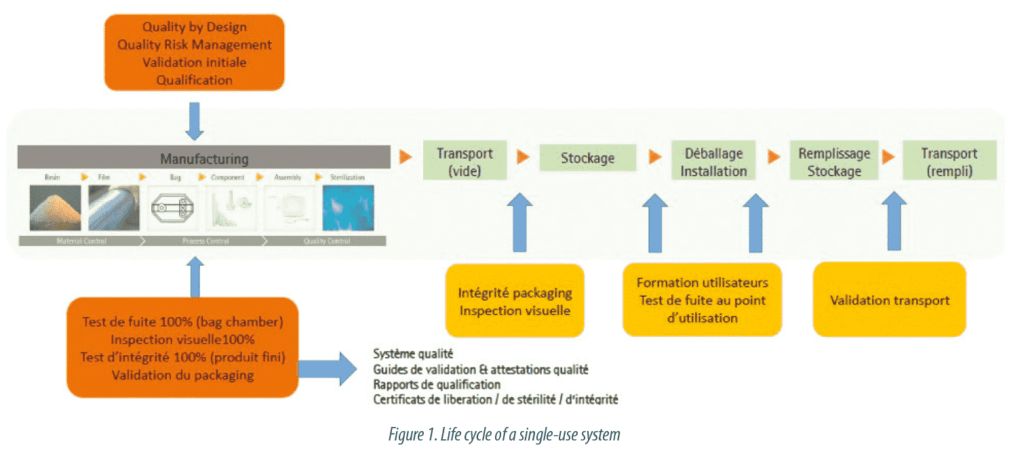 The USP <1207>(9) was revised in 2016. This is an informative chapter (good practice) and not a guideline. It applies mainly to primary packaging but its principles can also cover bulk containers used in storage, preparation and manufacture. Test methods are described and a deterministic approach is preferred. This document introduces the concept of Maximum Allowable Leakage Limit (MALL), which corresponds to the maximum permissible leakage size that does not pose any risk for the contained product. Thus, an integrated container shall not have any defects greater than the defined MALL.
It is therefore essential to precisely characterize this greatest tolerable leak size to minimize the risk of occurrence and to detect the possible presence reliably. For this, it is necessary to identify the critical steps and understand the factors of influence.
3. Failure Mode Analysis (AMDEC / FMEA)
As part of the risk analysis, the identification and understanding of failure modes that may lead to a loss of integrity of a Single-Use System is a prerequisite for implementing a reliable control strategy. This analysis must be conducted by both the supplier and the user of Single-Use Systems.
The understanding and control of raw materials and components as well as all stages of the manufacturing process (according to Quality by Design rules) leading to the release of a finished product are the responsibility of the supplier. Validation and / or qualification of assemblies, packaging, sterilization and transport must have been performed as well.
This systematic approach, accompanied by strict controls in production and at the end of production, must guarantee the perfect conformity of the finished product with the established specifications (in particular the robustness and the barrier properties).
At the end user side, Single-Use Systems will be received, stored, unpacked and manipulated which may introduce new risks of failure. Visual inspection (upon receipt and before use) as well as good user training in handling are required. The implementation of additional tests, such as point-of-use leak testing, may be required depending on the criticality of the application.
Figure 1 describes the life-cycle complexity of a Single-Use System and the validation, qualification, and control steps to ensure integrity.
4. Identification of the Maximum Allowable Leakage Limits
Existing studies (Kirsch, Morton, Keller, Gibney(10,11,12,13)), carried out on mainly on rigid containers (flasks, microtubes, capillaries), served as a basis for the characterization of liquid leakage and microbial penetration mechanisms in Single-Use Systems. The aim was to verify to what the extent of these models applied to containers by their nature flexible and whether a correlation could be established between the two phenomena.
Three main findings are interesting to list from published studies:
Bacterial penetration cannot occur in the absence of liquid passage, but a liquid leak does not systematically lead to microbial penetration.
The impact of the pressure
The impact of the physical properties of the fluid (surface tension, viscosity and temperature)
The compilation of these studies confirms the existence of a relationship between liquid leakage and microbial contamination, the MALL being between 2 and 10μm.
The application of the Keller and Gibney model and the tests performed on Single-Use assemblies under real conditions of use have demonstrated the consistency of these data. The MALL (the one that does not present a risk for the safety of the contents) could be defined by taking into account the factors impacting, in particular the pressure. According to the results of the studies conducted by Sartorius Stedim Biotech, a defect size of 2μm corresponds to the MALL for Single-Use Systems used in the most unfavorable situations (case of transport with acceleration impact). Under less stringent conditions (storage), the MALL would be of the order of 10 μm.
5. Test Methods
Penetration tests (dye-ingress and microbial ingress) have been used by industry for decades to verify the integrity of primary packaging. These probabilistic methods can be applied to single-use systems in validation or investigation stages. However, they are not suitable for the systematic checks that may be necessary in production (at the supplier) or at the point of use (at the end user). Two deterministic analytical methods applicable to Single-Use assemblies are described in USP <1207>: the pressure drop test and the helium tracer gas test (see their theoretical sensitivity for rigid containers in Table 1). These tests make it possible to control the physical integrity with rather wide detection ranges. A direct or indirect correlation to a bacterial challenge test then makes it possible to demonstrate the microbial integrity.

A leak test will most often be performed using the pressure drop method (ASTM F2095 Pressure Decay(14)). This involves putting a closed container under pressure and, after a stabilization phase, detecting any change in pressure. A pressure drop will indicate the presence of a leak on the container. The accuracy of this type of test is dependent on the pressure exerted, the volume of the tested container and the test time, it is also sensitive to temperature variations. The limit of detection for Single-Use systems may vary from 10μm (for the most sensitive equipment) to 600μm depending on these parameters. This makes it possible to detect macro-defects first and foremost (but not only). This test can be implemented in production, at the supplier as at the point of use, at the end user (POU-LT = Point of Use Leak Test).
An integrity test will detect micro-defects, which can lead to bacterial penetration. A consensus method is the helium test (ASTM F2391-05(15)). Helium is introduced into the test container, which has been previously placed in a vacuum chamber. Any trace of helium inside the enclosure will be detected and quantified by a mass spectrometer. The amount of helium detected can then be correlated to the size of the defect which generated the tracer gas leak. This very sensitive test makes it possible to reach a detection of a 2μm defect and can be correlated with a bacterial challenge. However, it requires complex equipment and will therefore generally be performed at the supplier of single-use systems (SIT = Supplier Integrity Test).
Conclusion
A consistent and reliable integrity control strategy must be based on an initial risk analysis, prior to the implementation of Quality by Design, to ensure the intrinsic (and consistent) robustness of Single-Use Systems and the control of all stages of the manufacturing process. In-depth knowledge of the factors that may impact their integrity under real conditions of use and the understanding of the mechanisms of liquid leakage and microbial penetration are essential in order to be able to define, on a scientific basis, the appropriate detection thresholds with regard to the risks of loss of integrity associated. Appropriate and validated physical test methods and protocols can then be implemented (at the supplier and at the end-user) to cover the different types of potential failures, in support of visual inspection and best practices.
The greatest tolerable leakage size to ensure the integrity of the Single-Use System will depend on the process step in which it will be used and the constraints it will have to bear (pressure, shocks, contact time, etc.).
Here again, a risk analysis will have to be conducted to determine the type of test to be implemented and the target detection threshold. It may be necessary to implement the most sensitive test method (Helium 2 μm) in the case of critical applications, such as the transport of sterile medicinal bulk.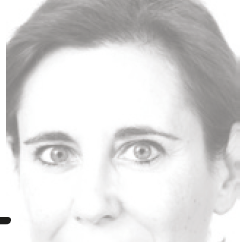 Katell MIGNOT – SARTORIUS
Katell MIGNOT is Field Marketing Manager for Single-Use Fluid Management Technologies at Sartorius Stedim Biotech, based in Aubagne, France. Mrs. MIGNOT holds a Master degree in Biochemistry and gained 20 years' experience at suppliers for Biopharmaceutical Industry. Since 2009 she has been leading a team of specialists who support process design, validation, training and implementation of Single-Use technologies. Mrs. MIGNOT is an active member of ISPE, PDA, A3P and BPSA and contributes to several industry working groups focused on Single-Use technologies.
katell.mignot@sartorius-stedim.com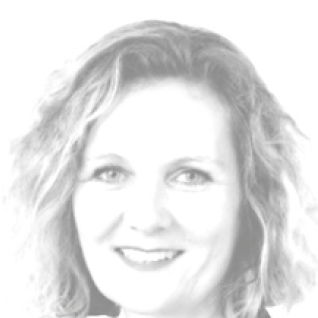 Carole LANGLOIS – SARTORIUS
Carole Langlois started her career in 1996 with Abbott Laboratories in Chicago, US. In 1998, she joined Sartorius Stedim Biotech in Aubagne, France where she is today Senior Product Manager for Single Use Fluid Management Technologies. Carole has 20 years of experience in the Pharmaceutical and Biopharmaceutical industries and has been involved in many industrial projects for the integration of single-use systems (SUS) in Form, Fill & Finish processes.Carole Langlois has a Biotechnology university graduation from Polytech Marseille and an Executive Master of Business Administration (MBA) from Kedge Business School Marseille.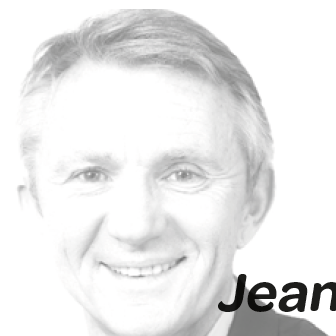 Jean-Marc CAPPIA – SARTORIUS
J.M. Cappia is Vice President Marketing & Product Management for Single Use Fluid Management Technologies at Sartorius Stedim Biotech based in Aubagne, France. With a Biotechnology Engineer graduation of the INSA of Toulouse and 30 years of experience, Mr. Cappia supports the biopharmaceutical industry on a world-wide basis, in particular in process design, validation, training and implementation of single-use technologies. Since joining Sartorius Stedim Biotech in 2006, he is responsible for marketing, product management and business development for single use technologies that can be integrated into manufacturing strategy.
(1) International Conference of Harmonization (ICH), Guidance Q9 Quality Risk Management, 2005.
(2) Parenteral and Drug Association, Technical Report n° 27 "Pharmaceutical Package Integrity", 1998.
(3) ASTM WK43741, "Standard Practice for Testing Integrity of Single-Use Systems at Vendors Manufacturing Facilities"
(4) ASTM WK47355, "Standard Practice for Controlling Integrity of Single-Use Systems during Biopharmaceutical manufacturing process at End-user factory"
(5) Bio-Process Systems Alliance, "Design, Control, and Monitoring of Single-Use Systems for Integrity Assurance", 2017
(6) Annex 1, 2010. "Manufacture of Sterile Medicinal Products" EudraLex, The Rules Governing, Medicinal Products in the European Union. Volume 4.
(7) Code of Federal Regulations 21CFR211.94
(8) FDA Guidance for Industry : Container and Closure Integrity Testing in lieu of Sterility Testing as a Component of the Stability Protocol for Sterile Products, Feb 2008.
(9) USP <1207> Sterile Product Packaging-Integrity Evaluation USP
<1207.1> Package Integrity and Test Method Selection USP
<1207.1> Package Integrity Leak Test Technologies USP
<1207.3> Package Seal Quality Test Methods
(10) D. K. Morton, N. G. Lordi. L. H. Troutman, and T. J. Ambrosio, « Quantitative and mechanistic measurements of container/closure integrity. Bubble, liquid, and microbial leakage tests, » Journal of Parenteral Science and Technology, 1989.
(11) L. E. Kirsch, L. Nguyen, and C. S. Moeckly, « Pharmaceutical container closure integrity 1: Mass spectrometry-based helium leak rate detection for rubber-stoppered glass vials, » PDA Journal of Pharmaceutical Science and Technology, 1997
(12) Matthew J. Gibney, Predicting Package Defects : Quantification Of Critical Leak Size, 2000
(13) Scott W. Keller, Determination Of The Leak Size Critical To Package Sterility Maintenance, 1998
(14) ASTM F2095: Standard Leak Test for Pressure Decay Leak Test for Nonporous Flexible Packages with and without Restraining Plates.
(15) ASTM F2391-05: Standard Test Method for measuring Package and Seal Integrity using Helium as the Tracer Gas.